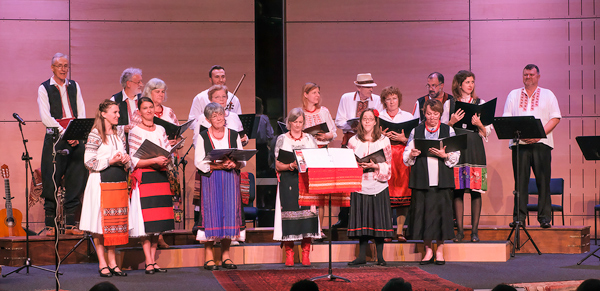 Christchurch choir, Musica Balkanica is an amateur a cappella choir, formed in 2004 by enthusiastic singers from the Balkan region and New Zealand. Our primary aim is to celebrate and "spread the joy" of the wonderful and large musical heritage of this region, in both sacred and folk genres.
The sacred pieces, from Eastern Orthodox tradition (many from the Divine Liturgy), date from Byzantine times to last century. The folk songs cover the whole range from wistful love-songs and patriotic laments to drinking songs and frantic village dances. Some folk pieces are accompanied by a tapan - a large, double-sided Bulgarian drum, played with two different sticks to produce bass and treble notes.
We are always keen to welcome new members. If you are interested in singing great traditional songs, with magnificent four-part harmonies, please sit in on one of our rehearsals - no commitments! We provide complete learning material and lots of help with pronunciation.
Rehearsals: Monday evenings, at 7:30, for 2 hours.
Held in the Tui Room, St Barnabas Anglican Church, Cnr Fendalton Rd & Tui St, Fendalton, Christchurch.
This site is under redevelopment, and is currently best viewed in Firefox or Safari.

Rum, dum, dum (live)
Gypsy Song (live)

Rejoice! h4>
Sacred Songs From Across The Balkans
Saturday, 22nd May, 2021
All Souls Church, 30 Church Lane, Merivale
Time: 7:00pm
Entry: Koha/donation (Cash only, please) h4>



Buda: 03 343-6026 Tony: 03 331-7626